Watching the 2023 BMW International Open at Golfclub München Eichenried, one couldn't help but notice the strong South African presence – and we're not just talking about Thriston Lawrence!
South African Tourism successfully partnered with BMW to promote the country as a world-class golfing destination at this prestigious annual event, which is one of the highlights on the DP World Tour with a purse of USD 2 million.
With strategically placed advertisement boards all around the course, notably on some of the tee boxes and around the greens, viewers across the globe regularly saw three striking words on their screens: Visit South Africa.
Short and sweet, yet getting our hearts racing every time that the camera zoomed in for a closer look!
The tourism industry across the globe was hit by a long and dreaded winter in the form of Covid. None suffered more so than South Africa. For a developing economy that relies heavily on tourism, the effects of Covid were absolutely devastating. The number of people employed in the tourism industry in South Africa was close to 2.88 million back in 2019. This number plummeted to a mere 1.08 million by the end of 2021.
The recovery effort began in all earnest back in 2022 and we've seen a steady rise in the number of visitors returning from our our key markets: Europe, North America, Australia and the Far East. We've still got some way to go, but South Africa has turned the corner at least.
South African Tourism is the official national marketing agency of the South African government, with the goal of promoting tourism in South Africa both locally and globally. Noticing their "Visit South Africa" campaign at the BMW International Open in Germany (a very important source market for SA), we for once could agree on how our hard earned taxes are being spent – especially after enduring the whole Tottenham Hotspur sponsorship debacle!
On their Love South Africa Facebook page, South Africa Tourism published the following after the event: "What a week! What a wonderful experience! What a victory for our country! South Africa shone at the BMW International Open this past week, as we connected with players, supporters and tourism leaders from across the world."
The post continued:
"We look forward to playing host in South Africa for the BMW Golf Cup World Final in 2024 at Fancourt, as we continue to work closely with all our key partners in the public and private sector to showcase what our beautiful destination has to offer."
Hats off to South African Tourism!
But the hero on the day was the easy-going 26 year old South African from Nelspruit in Kruger Park country. Straight after bagging his eighth career title in Munich – and fourth on the European Tour – Thriston Lawrence won over the hearts of the golfing world with a heartfelt television interview.
The usually composed boerseun from the Lowveld fought hard to hold back the tears and was clearly overwhelmed by his biggest win to date outside of South Africa. His sincerity got us all emotional as well!
The former learner from Hoërskool Nelspruit took a very different route to golfing fame – proving the pundits wrong and showing that playing college golf in the USA isn't a prerequisite for success as a professional golfer.
Lawrence turned pro back in 2014. He first played on the MENA Tour in 2015 and joined the Challenge Tour in 2016.
He won the MENA Tour Order of Merit in 2015 and played on the Big Easy Tour in 2018, gaining his card for the 2019/20 Sunshine Tour season. He won his first Sunshine Tour event in 2019 at the Vodacom Origins of Golf at Stellenbosch Golf Club.
His big breakthrough came in 2021 when he won the Joburg Open at Randpark Golf Club by a whopping 4 shots. He followed up his maiden DP World Tour victory only 8 months later by claiming the Omega European Masters in August 2022 after a playoff with Englishman Matt Wallace.
Three months later the 2022 Sir Henry Cotton Rookie of the Year became a national hero by winning the coveted South African Open Championship at Blair Atholl Golf Club near Johannesburg.
A new South African golfing star was born! Following up on fellow compatriot Ockie Strydom's victory at the 2023 Singapore Classic, Lawrence proved in Munich that the pool of South African PGA champions is much deeper and wider that many may have thought. From a PGA perspective, this came as welcome relief after the likes of Louis Oosthuizen, Charl Schwartzel and Branden Grace joined the rebel LIV Tour.
Lawrence's heroics at the 2023 BMW International Open replicated Ernie Els' triumph a decade earlier as he became only the second South African to lift this trophy. It sure was a rollercoaster of a final day for the big South African as he carded eight birdies and five bogeys on his way to a three-under par 69.
It was enough to take the clubhouse lead at 13-under par and clinching victory by a single-stroke after Dutchman Joost Luiten failed to force a playoff by narrowly missing a long birdie attempt on the final hole.
"That means a lot. I'm very emotional, to be honest," Lawrence said following his win.
"This game is not easy. It was a real push today and I really gave it my all. I feel sorry for Joost. I know how tough this game is," said the South African.
"I saw Joost miss that putt on 17. I know how tough those putts are on those greens. I mean, it's a lot of spikes, it's stepped out and it wasn't easy all day.
"I feel for him. I think that's why I'm emotional as well because I know how tough this game is and everybody wants to win. It just shows it means the world. And to get my fourth victory in Germany is just unbelievable."
We very much look forward to seeing the humble Lowvelder return to his native shores to defend his South African Open Championship title later in the year.
Triumphs by South African golfers on the world stage create a pleasant stir in terms of interest shown in the country as a first-class golfing holiday destination. By being gracious in victory in addition to playing sensational golf, our golfing heroes are aiding the South African golf travel industry to get back on its feet.
This siphons through not only to the golf tour operators such as Golf 2 Africa, but also the thousands of internationally acclaimed hotels and guest houses, golf courses, game reserves, wine farms, tour guides, restaurants, national parks, countless outdoor attractions and perhaps most in need – the local vendors earning an honest living by selling souvenirs to tourists.
Cheers to Thriston, Ockie, Ernie, legendary Gary Player and all the South African golfers representing the nation on various tours and platforms around the world for being such incredible ambassadors for this great country and the game we all love.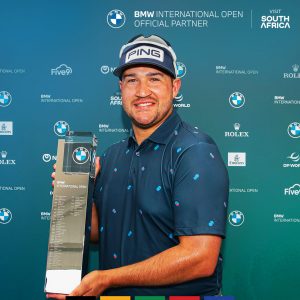 Thriston Lawrence – BMW International Open Champion 2023