South Africa Golf Holiday Specialists
We specialise in arranging discounted golf tours and safaris to South Africa. We're based in South Africa and have set up countless exhilarating golf holidays for couples and groups of all sizes since 2004.
Golf 2 Africa is a SATSA registered and bonded golf tour operator. Our selection of luxury South Africa golf tours and safaris include all the wonderful golfing destinations that this awe-inspiring part of the world has to offer. Have a look at our packaged golfing holidays or contact us to start planning your golf tour to South Africa today.
My wife and I recently used Golf 2 Africa for a wonderful holiday in South Africa. They did an excellent job, sorting out pick ups at the airport, transfers to a first class guest house in Pretoria, then as a result of their recommendation we stayed at Wildside Camp, Entebeni for 4 days. Our tour guide was excellent, we saw lots of the animals, including lions, cheetah, rhino, elephants and lots of antelope. We were then transferred to Rovos Rail for 9 wonderful days of golf. Every part of the holiday arranged by Golf 2 Africa was first class.
Fran and Margaret Muldoon
Having just returned from a 3 week golfing holiday arranged by Golf 2 Africa, and as our group leader I would like to say just how much we enjoyed the whole trip. This is the second holiday we have booked through Golf 2 Africa and I must say the organization was second to none. The hotels and golf courses selected for us were top notch as was our guide Pete who took care of every detail. I can thoroughly recommend any holiday arranged by Quintin and his staff. We will be visiting South Africa again and will definitely let them handle all the arrangements. SUPERB!!
Harrington Group
Read more about South Africa and all the breathtaking regions that we cover.
Info on our short breaks, guided tours, self drive and luxury rail golf holidays
Complete our South Africa Golf Tour Planner and we'll set up your package.
Use our South Africa Golf Tour Planner
Create your own golf holiday to South Africa. We'll set up your package based on all the information you provide in the South Africa Golf Tour Planner
South Africa Golf Tour Planner
Golf Tours South Africa
Our qualified South African Golf Travel Specialists combine years of experience in the industry and our love for the game to ensure that you enjoy the perfect golf holiday in South Africa. We can also add destinations such as Namibia, Botswana, Swaziland and the Victoria Falls to your golf tour to South Africa.
We're here to guarantee that you experience only the best golf holiday services South Africa has to offer at our highly discounted tour operator rates. We save you time, money and unnecessary hassle.
When using a well-respected, certified and bonded golf tour operator such as Golf 2 Africa, you have the peace of mind of having one expert point of contact in organising your entire golf holiday. You also have access to better rates than booking directly with the hotels, golf courses, car rental companies, game reserves etc. due to the huge discounts we negotiate annually as a result of our purchase power. Our South Africa golf tours service caters for couples & groups of all sizes.
South Africa Golf Holiday Specials
Shopping around for a South Africa golf holiday special? Check out our unbeatable deals.
Get a great deal
Our latest South Africa golf tour specials
What type of golf holiday are you looking for?
We offer short golf breaks, self drive golf holidays, guided golf tours and all inclusive luxury rail golf vacations to South Africa.
Golf holiday types
Golf Holiday in South Africa: a journey you will never forget!
Golf 2 Africa offers a totally unique experience to golfers from around the globe looking for the ultimate South Africa golf holiday. South Africa has emerged as a first class golf holiday destination over the years and is proudly known throughout the world as the quintessential golfing safari destination.
Incredible wildlife, championship golf courses, industry leading hotels and resorts, miles of sun-drenched beaches, mountains, forests and vineyards – South Africa has it all!
We at Golf 2 Africa offer seamless South Africa golf holidays for couples and groups of all sizes. We adapt to our clients needs, as requirements differ from couples looking for a romantic and intimate sojourn as opposed to groups of friends who want to experience as much entertainment as possible, or intrepid golfers in search of adventure during their golf holidays in South Africa.
South Africa offers a fantastic climate and countless tourist attractions to accompany our all year sunshine. You can rest assured that a golf tour to any of South Africa's picturesque regions will be an experience second to none.
Our South Africa golf tour specials and golf holiday packages combine some of Africa's best hotels, signature golf courses, exotic nature reserves, rustic wine farms and historic monuments to offer the discerning golf traveller a professional service and an unforgettable golf vacation in South Africa.
Our golf tour operator service portfolio includes: Golf Tours South Africa, which can either be arranged as self drive or guided golf holidays; golf and wine vacations, self catering golf holidays, adventure golf safaris and short golf breaks to South Africa. In addition to our packaged South Africa golf tours, we also offer our expert knowledge of South African golf courses, accommodation suppliers and tourist attractions to help you with any personalised South Africa golf holiday itinerary that you might have in mind.
We focus on organising luxury South Africa golf tours that perfectly meet our clients' needs and requirements. All our South Africa golf holiday packages are characterised by using only the best suppliers at our discounted tour operator rates.
When setting up your South Africa golf holiday with the assistance of our skilled Golf Travel Specialists, you are certain of a hassle-free, cost effective and professional service.
Let us offer you our unbeatable rates by setting up your golf holiday to South African today!
Read our golf travel blog
Sit back, relax and read our South Africa Golf Travel Blog for some great golf holiday ideas and inspiration.
Our golf travel blog
Our latest blog posts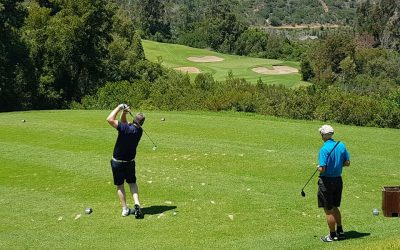 On our recent inspection tour of the Garden Route, I was amazed by the high spirits of the people of Knysna after the much publicised fires they endured last year. The main reason for our visit was to see first hand how the fires impacted the tourism industry in and...
Extra reading…
Why South Africa?
South Africa has always been synonymous with great natural beauty and a sport crazy nation. Golf is one of the most popular sports in South Africa and it is no wonder that there are over 500 golf courses spread throughout the country. Each town has at least one golf course and one will be surprised to experience the quality of lesser known courses located in areas most people have not even heard of.
It is no wonder why South Africa has produced so many champion golfers, with the likes of major winners Bobby Locke, Gary Player, Ernie Els, Retief Goosen, Trevor Immelman, Charl Schwartzel and Louis Oosthuizen. Other upcoming stars such as Branden Grace, Hennie Otto and Brandon Stone are making name for themselves across the globe and is a testament to the growth of the game in South Africa.
This unprecedented growth is coupled with the rapid development of the industry as a whole. Millions of people flock to South Africa each year, many of whom are golfers, to experience first hand what this great country has to offer.
Hotels and resorts have popped up across the country while old stalwarts upgraded their facilities in order to remain popular under visitors. Many of these hotels and resorts boast golf courses of the highest standard and have also entered the international phenomenon of golf real estate.
South Africa adds a very rich wildlife conservation tradition to the equation. Most golf resorts are located near nature reserves where one can go on safari after a round of golf.
Coupled with the growing number of golf communities, the South African golf vacations industry is also stretching its wings. Travelling golfers are greatly spoilt for choice due to South Africa's mushrooming golf infrastructure. The number golf travellers visiting South Africa increases each year and the amount of returning visitors is testimony to the fact that South Africa offers a truly unique and exhilarating golf vacation experience.
A typical South Africa golf holiday includes visits to internationally acclaimed locations such as Cape Town, the Cape Wine Route, the Garden Route and fabulous safari options at world renowned game reserves and national parks such as the Kruger Park, Pilanesberg, Addo and Hluhluwe Umfolozi. Many golf holiday-makers also include a stay at Africa's Kingdom of Pleasure – Sun City; or go off the beaten track in the Limpopo Province's Waterberg region or on the spectacular West Coast.
Combine your South Africa golf holiday experience with wine tasting, scuba diving, hot-air ballooning, safari, deep sea fishing, white sandy beaches, mountain climbing, hiking etc. No other destination can combine the game of golf with so many additional value-adds. Friendly locals, divine cuisine and a great infrastructure make a golf tour to South Africa an experience second to none. Come and test your skills on our courses, explore our abundant natural treasures, rejuvenate body and mind and be thrilled on a golf holiday of a lifetime.
We look forward to welcoming you South Africa.