Pezula Golf Course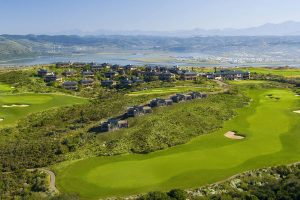 Category: Golf Vacations South Africa
• Location: Knysna, Garden Route
• Designed by: Ron Fream and David Dale
• Type: Links Golf Course
• Holes: 18, par 72
• Fairway Grass: Kikuyu
• Greens Grass: Bent
• Length: 5645m
• Ladies: 4765m
Built high up on the cliff tops of the East Knysna Head, the Pezula 18 hole Championship Golf Course designed by Ron Fream and David Dale, runs like an emerald ribbon through the olive greens of its pristine Southern Cape fynbos surroundings.
Set against the gentle background of the Outeniqua Mountains, the Sinclair Nature Reserve and the indigenous Knysna Forest. The multi award-winning course rates amongst the best and the most scenic in the world.
The course offers a golf experience that is both rewarding and challenging. The succession of forest, cliff and sea locations, changing elevations and clever bunkering delights golfers as much as the challenge of playing a course which calls for the full range of shots.
Its layout, especially from the back markers, cries out for good shot-making and sound course- management.
Showing the single result