Michelangelo Hotel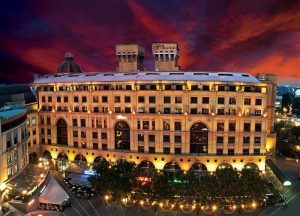 Category: Golf Holiday South Africa
The inspirational works of Italian Renaissance master, Michelangelo Buonarotti, was the departure point for the Legacy Group's breathtaking Michelangelo Hotel.
Over the heart of Sandton Square, Johannesburg, towers the majestic Michelangelo – the perfect vantage from which to observe the entertainment and corporate capital of Africa. Immerse yourself in the culture and breakneck pace of Sandton. Then return to convalesce in the serenity of Renaissance-style elegance that makes Michelangelo one of the Leading Hotels Of The World.
The Michelangelo provides the busy corporate executive with all the services and facilities he may require in which to conduct business.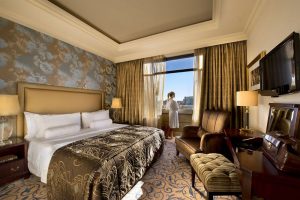 Accommodation
The 218 Deluxe and Superior rooms, as well as the 22 Premier and Executive suites have all been tastefully decorated to reflect the elegant Renaissance style that has been carried throughout the rest of the hotel. The two Presidential Suites each have a private dining room and lounge as well as 24-hour butler service for the more discerning guest.
All suites have private bathrooms with a separate shower and toilet, hairdryers, radio, colour TV, pay movie channel, 24-hour CNN and CNBC, individually controlled aircon, direct dialling phones, direct in and out dialling for personal fax/modem, Internet, electronic razor plug (220/110V), complimentary tea & coffee and mini bar. For your security, all rooms are equipped with electric safes and smoke detectors with sprinkler systems.
There is nothing you could possibly want for during your stay at the Michelangelo. Maybe just a little more of everything. The comprehensive service includes:
• Intermezzo Residents' Lounge with shower facilities (for early arrivals/late departures)
• 24-hour room service
• Conference and function facilities
• Shuttle service to and from Johannesburg International Airport
• Valet service
• Car rental and VIP limousine service
• Covered parking
• In the nearby shopping centre: hairdresser, banks/forex, travel agent, beauty salon
• Babysitting service
• Doctor and dentist on call
• Same day laundry
• Dry cleaning
• Express checkout
Conferencing
Conference rooms are fully equipped with a data projector, overhead projector, slide projector (35 mm carousel), a lectern, a P.A. system, laser pointer VHS with monitor and flipchart. Special features include 3-phase power and background CD music. Dancefloor and stage pieces (2,4m x 1,2m section) are available.
Arrangements can be made for a portable P.A., Barco-vision projector, Sony video projector, single house video projector, multiple slide shows, laser light shows and U-matic video player. All function rooms have independently controlled house lights, aircon and wall-to-wall carpeting.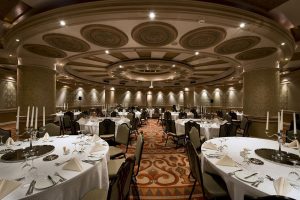 Dining
Piccolo Mondo
True to its name, the Piccolo Mondo really is "a world in one". You can circumnavigate the globe in a journey of tastes that transports you from Mozambique to the Mediterranean. Piccolo Mondo's seafood menu includes Mozambican prawns, lobsters, langoustines, mussels, oysters, crab, clams, calamari and Norwegian salmon. Order from the Mediterranean style la carte menu or opt for a three-course set menu. All meals are complemented with the pick of South Africa's most commended wines.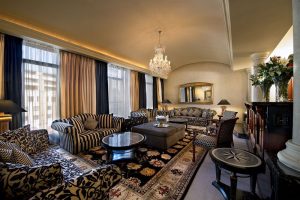 The Il Ritrovo Lounge
The Il Ritrovo Lounge serves high tea every afternoon and you can toast the sunset with cocktails, complemented by tapas and other light snacks. Business lunches are served daily and fit neatly into the diary of the busy executive. We are geared to your pace, allowing you to conclude your business discussions and your lunch within the hour.
Showing the single result