Victoria Falls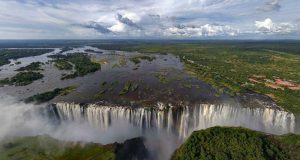 Described by the Kololo tribe living in the area in the 1800's as Mosi-oa-Tunya – "the Smoke that Thunders" and in more modern terms as "the greatest known curtain of falling water", Victoria Falls are a spectacular sight of awe-inspiring beauty and grandeur on the Zambezi River, bordering Zambia and Zimbabwe.
Columns of spray can be seen from miles away as 546 million cubic meters of water per minute plummet over the edge (at the height of the flood season) over a width of nearly two kilometres into a deep gorge over 100 meters below. The wide basalt cliff, over which the falls thunder, transforms the Zambezi from a wide placid river to a ferocious torrent cutting through a series of dramatic gorges.
Facing the Falls is another sheer wall of basalt, rising to the same height and capped by mist-soaked rain forest. A path along the edge of the forest provides the visitor who is prepared to brave the tremendous spray with an unparalleled series of views of the Falls.
One special vantage point is across the Knife Edge Bridge, where visitors can have the finest view of the Eastern Cataract and the Main Falls as well as the Boiling Pot where the river turns and heads down the Batoka Gorge. Other vantage points include the Falls Bridge and the Lookout Tree, which commands a panoramic view across the Main Falls.
A number of activities can be undertaken. The "Flight of Angels" provides a fabulous vista of The Falls, the river and its many islands. For the more adventurous there is microlighting with stunning panoramic views of The Falls and surrounding area. Rafting the wild rapids below The Falls is a very popular adventure. Visitors can also kayak, canoe, fish, go on guided walking safaris, ride on horseback and lunch on Livingstone's Island.
"The first impression was unmistakable; immense power, the raw energy unleashed when the entire Zambezi leaps wildly into a black two kilometer wide abyss.
The scale is massive, the spectacle spellbinding and perpetually changing. The falls hiss and roar as if possessed, they rumble and crash like thunder.
Vast clouds spew and billow out from the seething cauldron of its dark impenetrable depths. The moving water creates a magnetism that sucks you closer, so that you recoil in horror to quench a subliminal sacrificial urge." (Jumbo Williams, Zambezi, River of Africa. 1988)
Showing the single result