Tinga Private Game Lodge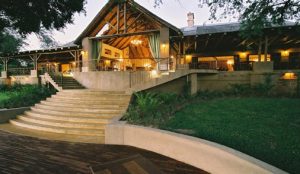 Category: Golf Holiday South Africa
Situated in the world-renowned Kruger National Park, Tinga Private Game Lodge offers unparalleled luxury at its secluded Legends and Narina Lodges. Each is tucked away on magnificent private land on the Sabie River and, with 35km of prime river frontage.
Tinga has an exclusive 5000 hectare concession within this area, where guests can view the wildlife on safaris or bush walks, whilst accompanied by SANParks-accredited guides.
Tinga vehicles also have access to the entire Kruger road network, thus allowing guests to view the areas of historical significance and aesthetic beauty that the southern Kruger has to offer.
Boasting two luxury lodges, Legends can be described as a classic safari lodge. The large, luxurious suites at Legends epitomize comfort and style, and each suite boast its own private game viewing deck and heated plunge pool, with magnificent views of the Sabie River, whilst the Narina Lodge has a distinctly more African feel. Built on stilts and nestled between the trees on the banks of the Sabie River.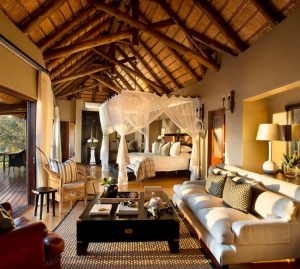 Accommodation
Tinga's two exclusive Lodges, Legends and Narina, each comprises nine suites which are well spaced to ensure complete privacy. Each lodge have:
• Nine-air-conditioned suites, each with en-suite bathrooms and a double
shower (suites at Narina have an outdoor shower), a separate lounge,
mini bar, safe, heated plunge pool and private viewing deck
• World class facilities including a river deck overlooking the Sabie River, wine cellar stocked with premier African and
international wines, a library, boma, lounge and bar and a sparkling swimming pool (at Legends Lodge)
Each suite is…
• Positioned to ensure complete privacy with an unobstructed view of game and the Sabie River from its own private
game viewing deck
• Equipped with a satellite television, DVD player, direct- dial telephone, international adapters, hairdryers, tea and coffee
making facilities
Spa and Wellness
Wellness is about making decisions that positively influence the balance between body, mind and spirit. Your decision to visit Tinga is your first step: the next step is to pamper yourself by indulging in our luxurious treatment selection, which is designed to ensure that you completely relax and de-stress.
Our expert therapists are available to spend time with you to understand your needs, interpret your requirements and ultimately restore, revitalize and renew your senses. In addition, guidelines on what to do before and after your treatments will be provided to maximize your enjoyment of the experience.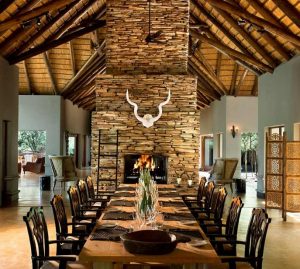 Gourmet Dining
A visit to Tinga is designed to stimulate all the senses. Tinga cuisine can be described as a combination of global fusion trends and the aromatic offerings of Africa.
Guinea fowl with warthog bacon and sage; fillet of ostrich marinated in rosemary, balsamic and olive oil or impala stir fry with oyster sauce: these are just a sample of the dishes our chefs offer Tinga guests. A range of more conventional, but no less delicious, options are always available at each meal. There is also a range of vegetarian dishes available on request, and provided advance notice has been given, halaal and kosher requirments can also be catered for.
The Tinga culinary experience is further enhanced by the tranquil settings in which the meals are enjoyed. Breakfast and lunch are enjoyed on the decks of the lodges, under the shade of the 200-year-old jackalberry tree. The gently flowing Sabie river and the soporific call of the emerald-spotted dove provide the perfect accompaniment to the range of delicacies prepared by the Tinga chefs.
Conference Facility
There can be no better venue to make inspired executive decisions than under the African sky. In addition to a unique bushveld conference, Tinga offers:
• Two executive boardrooms accommodating 8 and 16 guests respectively
• ISDN lines
• Data projector, television, screen, white boards and flip charts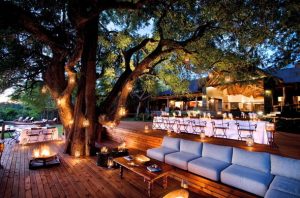 Additional Services
• Observe a host of game, including the Big Five and hundreds of bird species from the private game viewing deck of your suite, on safari in an open vehicle, or on foot with an experienced game tracker
• See all that wildest Africa has to offer on a sunrise or sunset safari in one of the open safari vehicles
• Enjoy a private, sumptuous bush breakfast or dinner
• Play golf on one of Africa's most unique and scenic courses in the heart of the Kruger National Park and expect to
share the pristine fairways with an assortment of the local wildlife
• Lift your spirits by viewing Africa's beauty from above in a private helicopter. Panoramic viewing of God's Window,
Bourke's Luck Potholes and other scenic attractions
• Enjoy a chilled drink on your private deck or relax in your private plunge pool
No Golf packages were found matching your selection.