Sabi River Country Club Golf Course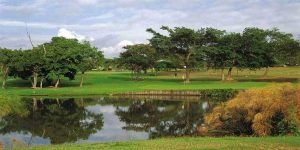 Category: Golf Holidays South Africa
• Location: Kruger National Park, Mpumalanga
• Designed by: Golf Data
• Type: Parklands Golf Course
• Holes: 18, par 72
• Fairway Grass: Kikuyu
• Greens Grass: Bent
• Length: 5779m
• Ladies: 4828m
The Sabi River Course is one of only four 18 hole layouts in the Mmpumalanga lowveld. Water is a big factor here and is present in the form of a hazard on all but 4 of the 18 holes.
The Sabie River, one of the country's important water courses, comes into play, as well as a network of dams.
The Sabie River Golf Course was originally built 57 years ago by the local farmers for their own use as a nine hole golf course.
In 1992 it was redesigned by Golf Data and is today, what Duncan Cruickshank of Compleat golfer magazine refers to as 'a user friendly' 18 hole golf course. Trees and water both play important roles as hazards on this course. At least 14 holes have water hazards. There are five dams and they all play a role.
No Golf packages were found matching your selection.